Posts Tagged the obama effect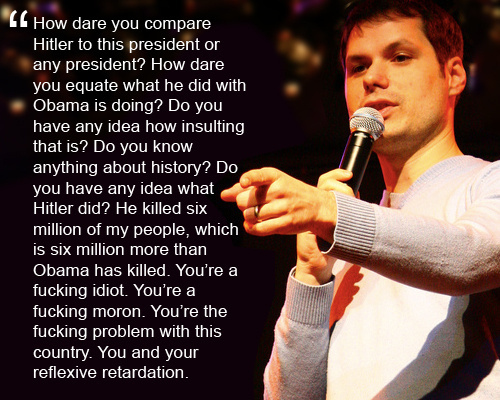 Mr Black explains:
The guy in the dark says, "Because when you say you like Obama, that's the same thing to me as saying 'Heil Hitler.'"

The audience, predictably, starts booing. I ask them to please calm down, that I will handle this in a mature way. While I am saying this to the audience, I am thinking, How do I possibly handle this in a mature way.

So the audience settles down, and I turn to the gentleman and say, "Sir, I say with this all due respect – you are a fucking moron."

And then I kind of lost my shit.
If you must know more, as we did after reading the macro listed above, go and read his Tumblr, Black is a Stallion.
We are unashamed at expressing our love for you Mr Black.
Unashamed and delighted.
Read the rest of this entry »