Posts Tagged superhero satire
We're pretty sure Mike Hawthorne should be involved with all future Catwoman adventures.
A handful of other comics speaking on this now dead matter lay below the cut.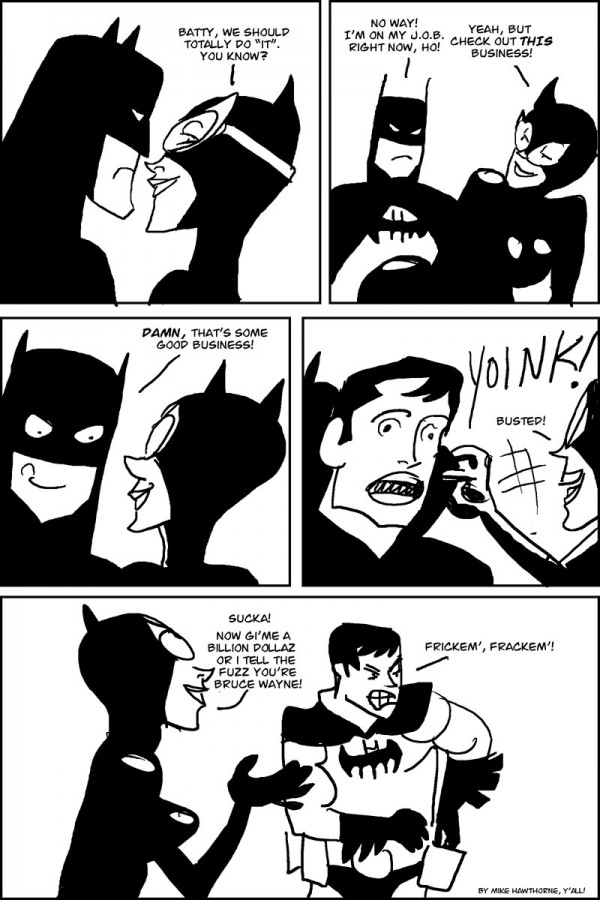 Panel & Pixel's Cover Action thread rises from the pit of despair and hits us with Obama joke covers by BOMB QUEEN's creator, Jimmie Robinson.
For those of you just tuning in, these are the things you need to know:
Over the last few months we've noticed comics publishers are not immune to "The Obama Effect." tracking this effect has become a new obsession of ours.
BOMB QUEEN is about "a villainess who has eliminated and subsequently banned all superheroes from the fictional city of New Port City. She rules the city as a benevolent dictator; the limitations she has placed over the city's criminals have made her a popular leader."
Mr. Robinson was kind enough to let us post both covers on this site.
One thing we're required to ask is, "Why aren't you reading BOMB QUEEN?" Issue one is up for the reading on Robinson's Comics Space. You have no excuse now.
Read the rest of this entry »